It is on the first floor that 45 new rooms join the quarantine of the ground floor. The street artists (Sema Lao, Korsé, Cartel 29, Kelkin …) had more freedom to appropriate the place, which gives us very special atmospheres over the door openings.
Here we are at the beginning of June 2019 in the fortified Breton town of Vannes, on the left side of the Marle in the former building of the DDE (Departmental Direction of Equipment). The future of this building is already all traced, since it will be destroyed and rehabilitated in 2020, but for the moment it is the association "l'Art Prend la Rue" who takes the greatest care.

Place of culture on urban art in all its forms (coffee, events, meetings …) we will examine it in a future article. What interests us today is the opening of a new floor with 42 rooms and 3 corridors decorated over the course of bombs, brushes and other utensils of artists to express their talent and their free imagination.
It is in exclusivity that we were able to make the tour before the opening to the public which will take place of Saturday, June 8th.
Admission is free and reservations are also snapped up fast a final of the Champions League. Stay tuned on this page https://dedale.lartprendlarue.org/portfolio/reservations/

This first floor is freer than what has already been done on the ground floor. Each room takes us into a universe specific to each artist.

Get in the little train of street art to do a little tour of what you expect!

Thanks to Violaine for the welcome. The association is composed of about fifty volunteers really invested in the promotion of street art and that's cool 🙂

Martin Bineau was still working to finalize his monumental 160m2 artwork. It took him more than a month of work to get through the long corridor. Once inside, we will be caught in a whirlwind by the intense black curves drawn with a brush on a golden yellow background.
The youngest member of the artists is called Esor, anagram of Rose, and it is from this flower that he reveals sweetness, appeasement, sensitivity in his work. Some may think of a feminine touch with this particular technique of pointillism. This is his first exhibition but he is promised a bright future.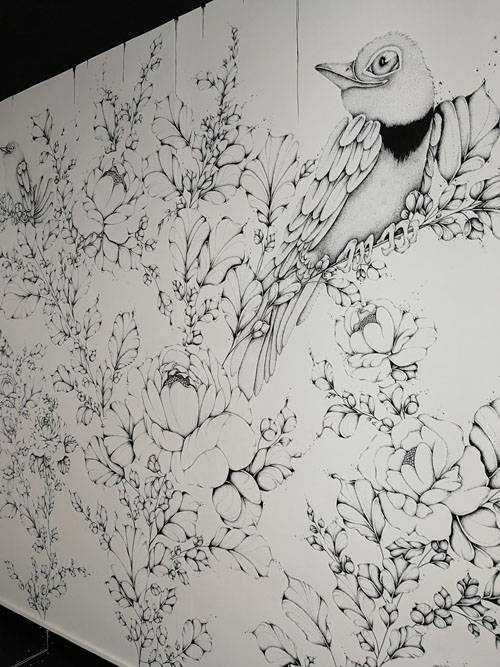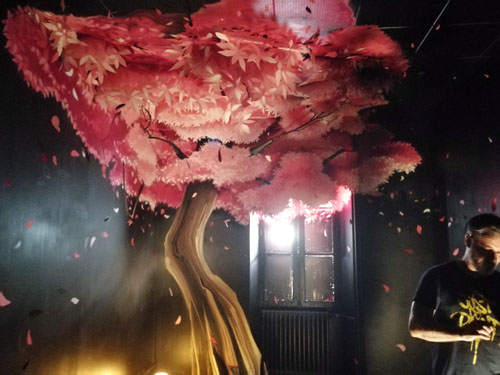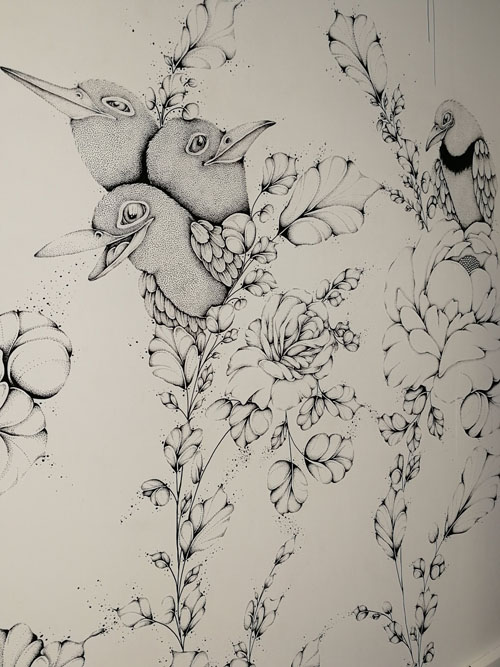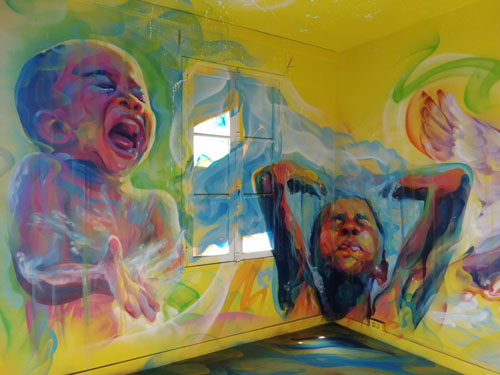 Here's a preview of what's waiting for you!